General and Local Information
About Australia

Australia's landscape is a picture of amazing diversity, contrasts and natural wonder. From the ancient rock Uluru (Ayers Rock) to the Great Barrier Reef, Australia's Red Centre reaches out to a magnificent azure coastline. Scattered across this beautiful environment, our thriving cities bubble with sophistication and energy. Brisbane, Queensland's vibrant sub tropical capital, Sydney and its magnificent harbour, and Melbourne with its heritage of arts, fashion and fine food, are just three of Australia's outstanding city destinations. Australia, the world's smallest continent and largest island, is like nowhere else on earth. It is as big as mainland United States but has only 20 million people. It is adventurous, stylish and friendly, has unique flora and fauna and a fantastic climate. Aussies (as the locals are called) enjoy sport, beaches, music, performing arts, outdoor cafes, pubs, multicultural restaurants and good friends. A rich cultural blend of fashion, languages and cuisine colours the streets of Australia's major cities. Australia's diverse mix of environments and cultures offers an encounter like no other. Explore lively, sophisticated cities, experience the awe-inspiring beauty of Australia's natural wonders, discover the ancient mysteries of Aboriginal culture, and see and feel the rigours of life in the rugged Outback. Regardless of which path you take, Australia guarantees the experience of a lifetime!
Australia Map
Australia Facts
---
About Brisbane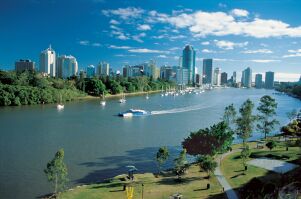 Brisbane is Australia's fastest growing city with an outdoor lifestyle unequalled in Australia. It is a thriving metropolis with an easy-going unhurried tempo, mouth-watering cuisine and fine local wines. Its recreational, cultural and sporting facilities offer visitors endless opportunities to enjoy the city's great climate.
The cultural heart of Brisbane is the Queensland Cultural Centre at the South Bank Precinct. Here you will find the Queensland Art Gallery, State Library and Queensland Museum.
Weather
July is winter in Australia and in Brisbane winter is mild and very pleasant.  Most winter days are sunny with average temperatures of around 17C.  The average maximum for July/August is 21C and the average minimum is 10C.
Currency and ATMs
The Australia currency is the Australian dollar (A$).  Automatic Teller Machines (ATMs) are widely available and local currency can be withdrawn using Cirrus or Maestro based cards that facilitate electronic funds, point of sale (EFPOS).
Credit Cards
Visa, MasterCard and Eurocard are widely accepted. American Express and Diners Club are accepted at many hotels and some restaurants.
Customs & Quarantine
Quarantine and wildlife regulations and other restrictions may also apply to certain goods. A customs entry for customs clearance may be required if the goods carried are valued over A$250. All travellers must declare amounts of A$10,000 or more in foreign or Australian currency (notes and coins) you take into or out of Australia. 
We recommend you check the
Australian Customs Service
web page.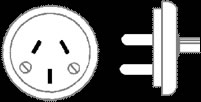 Electricity in Australia is 240 volts, 50 hz.
GST – Goods and Services Tax
All goods and services transacted in Australia attract a Goods and Services Tax of 10%.  By law this tax is included in all displayed prices – so the price you see is the price you pay.
Visitors to Australia can claim back the GST paid on any purchase of at least A$300 from the one store.  This is done at the airport at the time of departure. You need proof of purchase (normal receipt) that shows the suppliers ABN (Australian Business Number), that GST was paid on the goods, and how much the GST was.
Time Zone
Brisbane is 10 hours ahead of Greenwich Mean Time (GMT + 10).  Because Australia is on the other side of the International Date Line, you lose one day when traveling west from USA. You will gain one day upon return (across the Pacific).
Tipping
Tipping is not as widespread in Australia as it is in other parts of the world. Tipping is your prerogative, a reward for service. It is customary to tip hotel porters, and a gratuity of about 10% is usual in restaurants if good service is received. NO service charge is added to hotel or restaurant bills.
Attractions in Brisbane
There are many half and whole day tours that can be taken to enjoy the sights of Brisbane and surrounding areas.
Attractions near Brisbane
Just an hour south of Brisbane, the Gold Coast boasts a wealth of natural attractions ranging from its internationally acclaimed beaches to World Heritage Listed subtropical rainforests.
An hour north of Brisbane, the Sunshine Coast offers both miles of pristine beaches and lush hinterland.
Attractions in Australia
If you plan to spend more time in Australia, there are many options including The Great Barrier Reef and the Whitsunday Islands off the Queensland Coast, the Daintree Rainforest in far North Queensland, Uluru in Central Australia, or Kakadu in the Northern Territory.